It's hard to resist CBD because of its long list of perks. However, many products exist, from gummies to baked goods or vaping oils. While most cannabidiol products are as simple as munching or drinking, vaping differs slightly.
Yet it's one of the fastest and most effective ways to experience the benefits of CBD. Whether you're looking to relax after a long day at work or hoping to treat anxiety and chronic pain, it delivers instant relief.
The best part is that vaping CBD is easy once you get the hang of it. This guide will show you everything you need to know to start vaping CBD in no time. By this end, you'll be blowing perfect O's of CBD vapor.
So, grab your vape pen, pick out your own CBD vape juice, and let's get started.
Choosing the Right CBD Vape Oil for You
Choosing suitable vape liquids depends on your needs and preferences. The first thing to consider is the potency. Do you want a higher dose of CBD for more intensive support, or are you looking for a lower concentration? CBD vape oils typically come in strengths ranging from 100mg to 4000mg of CBD per bottle.
Next, check the ingredients. The best CBD vape oils contain CBD isolate or broad-spectrum CBD, organic plant oils like hemp seed or MCT oil, and natural flavorings. Avoid propylene glycol (PG) and polyethylene glycol (PEG). These chemicals are solvents in some vape juices but may irritate the lungs.
Flavors are another factor to keep in mind. If you want to mask the taste of hemp, go for a fruity flavor like strawberry, mango, or blueberry. For a better hemp experience, choose an earthy flavor such as pine or mint. There are also unflavored CBD vape oils with no added tastes.
Finally, consider the brand. Buy from a reputable company that uses high-quality, organic hemp and transparent extraction methods. How to find them? Check reviews from other customers for the best brands that offer pure, potent vape oils with natural ingredients and safe manufacturing practices.
With so many options available, you'll find a CBD vape oil that suits your needs and tastes. Start slowly with the dosage, and you'll vape CBD like a pro in no time!
Selecting a High-Quality CBD Vape Pen or Vaporizer
One of the easiest ways to experience the benefits of CBD vaping is through high-quality vape pens or vaporizers.
Look for a vape specifically for CBD oils and concentrates, not nicotine e-liquids. CBD vape pens often have larger chambers and adjustable heat settings suitable for CBD. Some recommended brands are VapeBright, CBDFx, and Select CBD.
Here are some tips for selecting the right one:
Consider a Refillable Vape Pen
While disposable vape pens are convenient, refillable CBD vape pens allow you to choose your CBD vape oil and control the potency.
Refillable pens are also more cost-effective in the long run. Popular refillable options include the VapeBright Thrive and the CBDFx Vape Pen.
Check the Battery Capacity and Life
A vape pen with a long-lasting built-in battery or one that uses replaceable 510 thread batteries allows you to vape all day without recharging. Look for at least 400 to 800 mAh.
Consider Your Vaping Style
Do you prefer shorter, more frequent draws or longer sessions? Choose an appropriate chamber size and adjustable temperature settings to suit your needs. Lower temps are good for quick hits, while higher temps work better for longer vaping.
Read Reviews to Determine Quality and Reliability
Select CBD vapes with a proven track record and a reputation for safety, quality components, and durability. The last thing you want is for your vape to malfunction or stop working after a short period.
With so many CBD vape products on the market, researching is vital to finding a high-quality CBD vape pen or vaporizer that will give you the desired experience. Choose wisely and vape confidently!
Understanding CBD Vape Oil Concentrations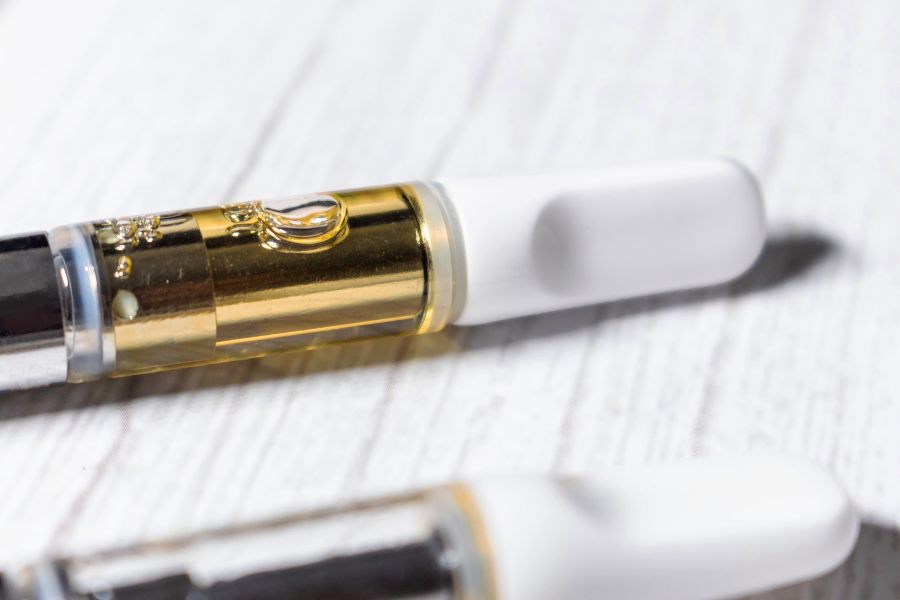 CBD vape oil comes in different concentrations, so you'll want to choose one that suits your needs and experience level.
CBD Isolate (99% CBD)
If you're new to vaping CBD, an isolate is a great place to start. CBD isolate contains pure CBD and no THC so you can enjoy its benefits without the high. Isolate oils usually range from 250 to 1,000mg of CBD per bottle.
Full-Spectrum CBD (Contains THC)
For the full entourage effect of hemp cannabinoids and terpenes, choose a full-spectrum CBD vape oil. Full-spectrum oils contain CBD, CBG, CBN, and trace amounts of THC (less than 0.3%). The THC can heighten the effects of CBD but won't get you high. Full-spectrum vape oils range from 200mg to 1,500mg of CBD per bottle.
Broad-Spectrum CBD (No THC)
Like full-spectrum CBD, broad-spectrum contains CBD, CBG, and CBN—but with the THC removed. So you can experience the entourage effect of multiple cannabinoids minus the THC. The vape oils typically range from 300 to 1,200mg of CBD per bottle.
The concentration you choose depends on your body weight, tolerance, and the severity of your symptoms. In general, note the following:
Start with a lower concentration, like 250-500mg, and work up. You can always increase the dosage, but you can't undo the effects of too much CBD.
A lower dose of 250-750mg should work well for mild symptoms or preventive use.
Try a medium-strength oil with 750-1,500mg of CBD for moderate symptoms.
A high-potency 1,500-3,000mg oil may provide the best results for severe symptoms.
The key is to start low, go slow, and listen to your body. Pay attention to how you feel after vaping, and find the sweet spot that's right for you.
How to Vape CBD Oil
Vaping CBD oil is one of the fastest ways to experience the effects of CBD. The steps will help you vape your cannabidiol like a pro:
Choose a Vape Device
You'll first need a vape device, like a vape pen or vaporizer. There are many affordable options available. Look for a device specifically meant for vaping CBD or cannabis extracts. Some popular choices are the Kind Pen Dream, Vape Bright Thrive, or CBDFX Vape Kit.
Fill the Chamber
Most vape devices have a chamber to hold the vape oil. Unscrew or uncap your CBD vape pen, fill the chamber about 3/4 full with CBD vape oil and don't overfill the chamber to avoid causing clogs. Then, securely screw the cap or mouthpiece back on.
Turn On and Set the Temperature
Turn on your vape device by clicking the power button 5 times quickly or according to instructions. Adjust the temperature to 350 to 400 degrees Fahrenheit or 175 to 200 degrees Celsius.
Lower temperatures will produce thicker vapor; higher temps will produce thinner vapor. Start at a lower setting and work your way up.
Inhale and Exhale
Place your lips over the mouthpiece and inhale slowly for 3 to 5 seconds while pressing and holding the power button. Then remove your finger from the power button and inhale to pull the vapor into your lungs.
Hold the vapor in your lungs for a few seconds before exhaling.
Start with 3 to 5 inhalations and wait a few minutes to gauge the effects. You can then take a few more inhalations if needed.
The effects of inhaled CBD tend to last around 2 to 3 hours.
Re-Dose as Needed
Repeat the process with your vape device if you need another CBD dose after a few hours. Vaping allows for fast absorption and immediate effects, so you can re-dose as needed throughout the day. Be sure not to exceed the recommended dosage for your CBD vape oil. Moderation is key.
FAQs About Vaping CBD
What is CBD Vape Oil?
CBD vape oil, also known as CBD e-liquid or vape juice, is specially formulated to be vaped rather than ingested orally. It contains cannabidiol extracted from the hemp plant, vegetable glycerin (VG), and propylene glycol (PG) to produce vapor. Unlike pre-filled CBD cartridges, CBD vape oil is designed as an e-liquid to refill your vape pen or mod.
Is It Legal?
Yes, CBD vape oil that contains less than 0.3% THC is legal in the U.S. under the 2018 Farm Bill. And it's legal under Cannabis Act as well. However, some states or regions have additional restrictions. Check with your state laws to confirm.
Will It Get Me High?
No, CBD vape oil will not intoxicate or make you feel "high." CBD is non-psychoactive, meaning it does not produce the "high" associated with THC. CBD vape oil only contains trace amounts of THC, which is insufficient to have psychoactive effects.
How Much CBD Should I Vape?
Most people start with 1 to 2 mg of CBD vape oil and work up to find the correct CBD dosage. An average dose is usually 3 to 5 mg of CBD, 3 times daily.
Start low and go slow, increasing your dosage over weeks while monitoring the effects. Higher doses of 10 to 30 mg may be needed for some conditions. But more is not always better—find the minimum effective dose for your needs.
What Are the Side Effects?
Possible side effects of vaping CBD include dry mouth, drowsiness, and lightheadedness. CBD can also interact with some medications. However, it's considered safe, with no risk of overdose or addiction. If any severe side effects occur, stop use and consult your doctor.
Can I Vape Too Much CBD?
While CBD has no risk of fatal overdose, vaping too much CBD oil may lead to side effects like nausea, fatigue, and irritability. Always follow the dosage instructions and start low and go slow. If any side effects become bothersome, stop vaping CBD and drink plenty of water. Side effects are usually mild and temporary but can be avoided by proper dosage.
Bottom Line
That's everything you need to know to vape CBD like a pro. Since you've got the right supplies and learned how to fill and use your vape pen properly, you're all set.
Take it slow at first to find your sweet spot, then sit back and enjoy the benefits of CBD in a quick, convenient, and tasty way. Vaping CBD is a fun and effective method for getting fast relief or unwinding after a long day. With the proper knowledge, you'll blow clouds like a pro in no time.